+++ New: SAM PuttLab 6 Feature Update +++
New Shot Pattern Report & updated PGA tour players reference
The SAM PuttLab 6 software takes putt analysis to the ultimate level
Click here for more information
Download a free demo version of SAM PuttLab 6 software:
+++ Brand new: SAM PuttLab 6 software +++
The SAM PuttLab 6 software takes putt analysis to the ultimate level
Click here for more information
Download a free demo version of SAM PuttLab 6 software:
SAM PuttLab
THE COMPLETE PUTTING SOLUTION
SAM PuttLab
THE COMPLETE PUTTING SOLUTION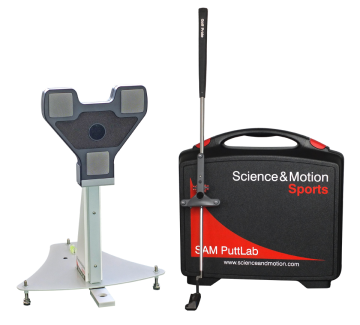 Complete analysis of ALL relevant putting aspects

Specific training modules

New Report Builder: Customized Reports, 80+ Report tiles

Suitable for amateurs up to PGA Tour players

Over 2.000 satisfied customers worldwide

Professional putter fitting

Portable for indoor and outdoor use

3D-Putt replay module (3D-Putt details & videos)

New

 SAM BallTracker add-on (

BallTracker details

and

flyer

)
Putt training in a new dimension
43 % of the golf shots are putts, however, putting is rarely trained systematically. Neuroscience tell us that efficient learning is all about accurate feedback. SAM PuttLab offers the most efficient technology to train for ascertainable success.
Testimonials of many Instructors and PGA Tour Pros attest the unique abilities of SAM PuttLab (See our Testimonials).
Most accurate tracking technology
SAM PuttLab is the worlds most accurate and comprehensive putt analysis and training system. Other technology lacks accuracy, which is so much needed for putting, or only measures few aspects of the putting stroke.
The PuttLab 6 software with app remote control and Report Builder module is now available (More info on PuttLab App).
Cutting edge putting analysis
DISCOVER YOUR INDIVIDUAL STRENGTHS & WEAKNESSES
Evaluation of 50+ putting parameter
SAM PuttLab analyzes more than 50 important parameters of your putting stroke and displays the results in easy to understand graphic reports. Discover your individual strengths and weaknesses for a better and more efficient training.
Within seconds the system gives you an individual feedback on your putting strokes. The analysis reveals even the smallest details of your movements and allows you to develop improvements and training strategies.
SAM PuttLab utilizes ultrasound sensory analysis and therefore is far more precise than any other similar system on the market.
Main features of analysis
Measurement of 50+ parameters (see "Parameter overview" below)

Auto-calibration

Feedback training

Graphic result reports

Performance profiles

Tour scoring

Interactive protocols

Gaming
Parameter overview (click to see full list)
Face Aim

Face Change

Face Impact

Ball Direction

Path Direction

Face On Path

Spot Address

Spot Impact

Path Arc

Backswing Length

Forward Swing Length

Backswing Ratio

Lie Address

Lie Impact

Shaft Address

Shaft Impact

Loft Address

Loft Impact

Height Impact

Vertical Spot

Rise Impact

Launch Angle

Spin Loft

Face TOB

Face Finish

Backswing Rotation

Forward Swing Rotation

Rotation -10

Rotation +10

Abs Rotation Zone

Rotation Symmetry

Relative Rotation Zone

Rotation Rate

Yips Jerking

Backswing Time

Impact Time

Forward Swing Time

Rhythm

Timing

Speed Impact

Acceleration Impact
and more…
What the experts say…
"A KEY COMPONENT OF THE COACHING SYSTEM"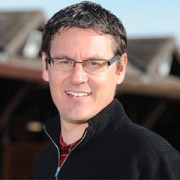 "SAM PuttLab is a key component of the coaching system we have in operation at the Home of Golf. It provides clear feedback, positive results and above all it is fun to use."
STEVE NORTH, Director of Instruction, St Andrews Links Golf Academy
Watch a video demonstration of SAM PuttLab by Steve North:
The different editions of SAM PuttLab
There are 4 different product editions available for SAM PuttLab: Basic, Coaching , Coaching Plus and Professional.
All editions include 41 parameters for the analysis and training mode, so the training functionality is not restricted at all even in the Basic edition!
New for PuttLab 6 is the Report Builder to design own report pages with custom layouts and individual tiles. The Report Builder allows to combine from a selection of more than 80 tiles in 4 different sizes. The Report Builder module is available in Coaching, Coaching Plus and Professional Edition only!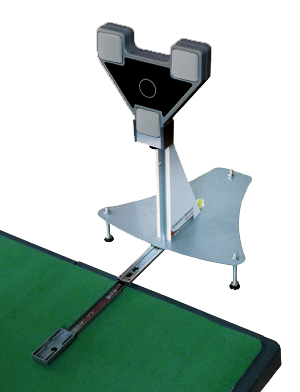 The ideal extension
The SAM PuttStation is the ideal extension for PuttLab indoor installations – the perfect tool for studios and academies as well as retail golf shops. The biggest advantage to using the PuttStation with the SAM PuttLab is ease of set up and perfect calibration.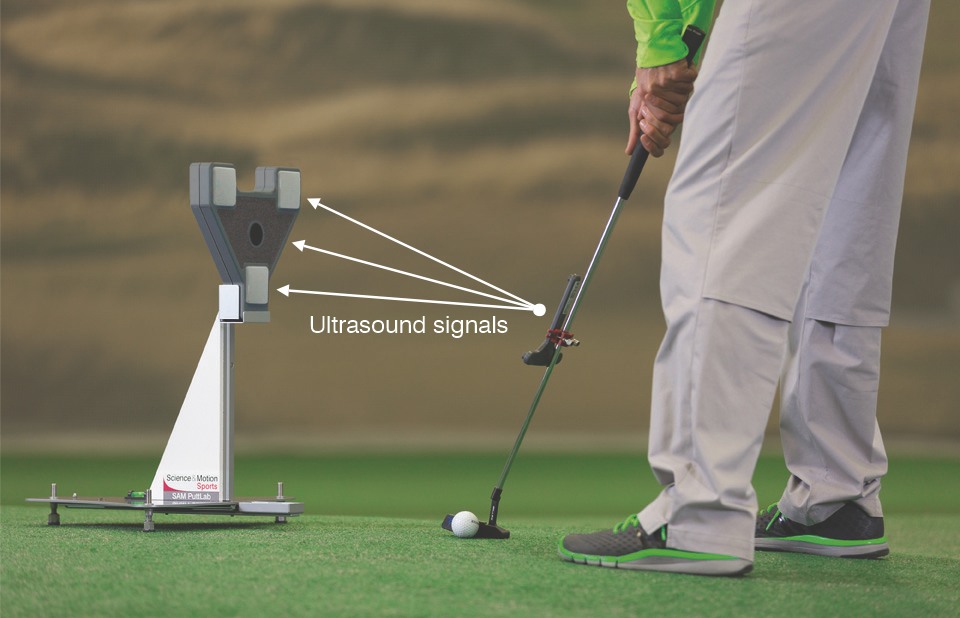 Additionally you need a Windows PC/ Laptop and optionally a printer

i3, i5, i7 or comparable with 2 GHz or better

2 GB RAM (4 GB RAM recommended)

500 MB free storage space

USB 2.0 or compatible USB 3.0 interface

Internet access for software updates recommended

Windows 7, 8, 8.1 and 10 (32/64 Bit)
BasicUnit (receiver unit)

FlexTriplet (wireless sensor)

FlexClips (for attaching FlexTriplet to the putter)

Tripod

USB cable

Protective carrying case

SAM PuttLab software

Comprehensive operating manual (as PDF-file)

Quick Start guide

Calibration sheet
4 sensor channels

Real-time analysis via PC USB interface

Measuring frequency 70 Hz

180 degrees radiation angle of the senders 

Measuring distance up to 1.4 meters

resolution of the positional signal about 1/10 mm

Size: 240x255x50 mm

Weight: 750 g

Ultrasound marker 10 x 8 mm
Precision and simplicity
The electronics are completely housed in the compact and durable receiver unit (SAM BaseUnit). The receiver unit is mounted onto a small tripod.
The measuring principle is based on measuring the travel time, which the signals of the three senders on the sensor (Triplet) need to reach the microphones in the measuring unit. These time periods are then used for calculation of the exact positions in space which makes it possible to derive the movement data.
There is no problem using the system outdoors if kept away from moisture or strong winds.
SAM PuttLab versions 5 and 6 allows users to remote control the PC software with the PuttLab App on smartphones or tablet computers. 
Download a free demo version of SAM PuttLab software!