Download a free demo version of SAM BalanceLab software!
NEW: SAM BalanceLab 3 Ultimate Edition
OUR LATEST SOFTWARE UPDATE IS NOW AVAILABLE!

SAM Balance Lab
BALANCE – THE INVISIBLE KEY TO SUCCESS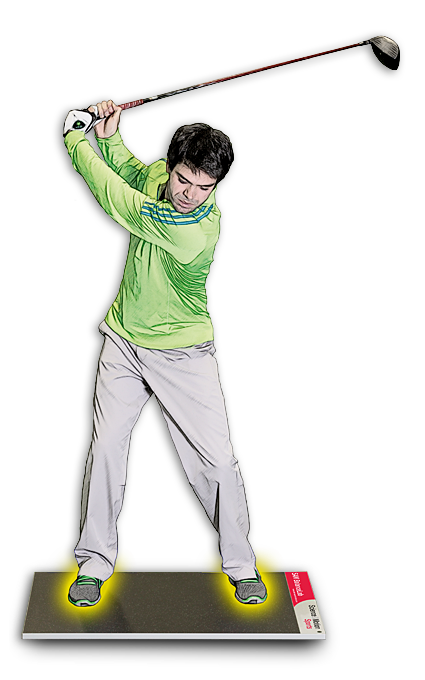 Stop the guesswork & start to rely on facts
SAM BalanceLab is an ultra-high resolution pressure plate to evaluate balance and weight transfer during a golf swing. The pressure signals and synchronized video are recorded in parallel and then interactively analyzed in detail. Poor balance and an irregular weight shift are often responsible for swing flaws resulting in an unsatisfactory outcome of the shot. 
The report capabilities of the system are similar to our proven SAM PuttLab system and give the user detailed data from each swing that can be viewed and printed. 
Windows 7/8/10 – 32/64 Bit

i5/i7 CPU, 8 GB RAM or better

Harddisk minimum 200 GB

USB2, USB3 or Ethernet camera
Ultra high resolution 2560 sensors (4 per inch)

Total size (w/l/d): 24" x 38" x 0,83"

Portable system, weight 12kg

USB connection

Audio impact detection

Support for industry cameras (IDS)

Launch monitor integration (Trackman / Flightscope / GC2)
Applications:
Teaching and playing professionals

Golf clubs

Indoor centers

Fitting centers

Golf stores

Manufacturers
Swing replay screen (click image to zoom in):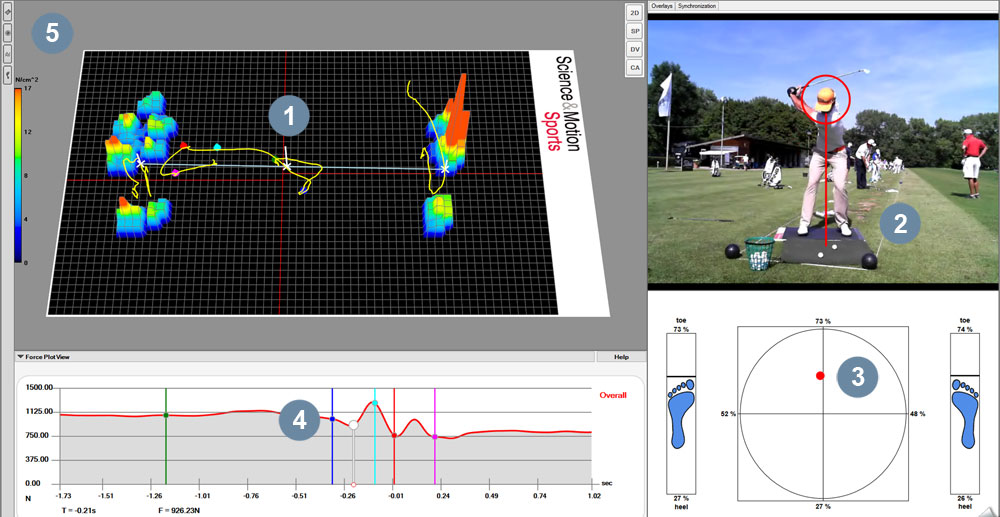 Body (COP) curve
 1:1 synched video and drawing tools
 Toe/ heel balance for both feet & body balance (COP)
 Player downforce & markers for swing key positions
 Live pressure display (2D or 3D)
Main Features of SAM BalanceLab
Medical proven pressure plate technology (2560 sensors)

2D/3D display of pressure distributions

Left/right foot and heel/toe balance analysis

Replay and graphical report modules

Center of pressure (COP) + weight transfer analysis

Synchronized video recording

Live feedback and training mode

Launch monitor integration
How balance affects the swing
POOR BALANCE – A FREQUENT TRIGGER OF A MISS-HIT GOLF SHOT
Well balanced swing
On the lower image you can see a quite efficient weight shift of an US Tour player (Iron 5). Backswing and forward swing are in the same plane. At impact the COP is 72% at the front foot with an almost even heel/toe balance with 55%. The club head can freely accelerate through impact on the target line to create power and control.
Weight too far towards toe
Insufficient weight shift and uneven balance in heel/toe direction are common flaws in poor golf shots. The lower picture shows the COP at impact with a lack of weight shift to the left with only 47% as well as a balance too much forward at the toes with 92%. Improper balance will reduce the power at impact and may e.g. result in an out to in swing plane, promoting a pull, slice or fade.
What the experts say…
"SAM BALANCELAB HAS ALLOWED ME TO SEE THE INVISIBLE"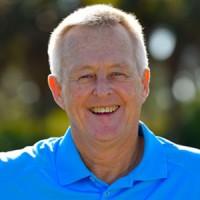 "The SAM BalanceLab has allowed me to see the invisible. Things that I would not be able to see on video or with the naked eye are now very apparent to me. An incredible piece of equipment to understand why people move the way they do. My only regret is I didn't have it 25 years ago."
MARTIN HALL, 2008 PGA American National Teacher of the Year
.
Download a free demo version of SAM BalanceLab software!